If your LabArchives account is hosted on our Australian-based servers, you will need to use the Australian Login Page.
If you visit the US site while working in another region, you will see a message like this: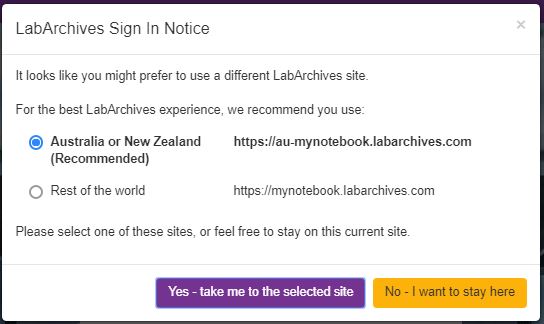 The "Yes – take me to the selected site" will redirect you to LabArchives on the Australian servers (https://au-mynotebook.labarchives.com).
The "No – I want to stay here" will allow you to continue to the currentservers (https://mynotebook.labarchives.com).
To use applications like Folder Monitor or the Microsoft Office Plugin, you will need to update the server address by following the instructions below.
After launching Folder Monitor, click "Login"

Click on the Service URL drop down menu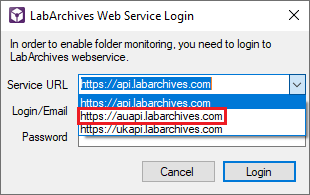 After launching Folder Monitor, click "Login"

Click on the Webservice URL drop down menu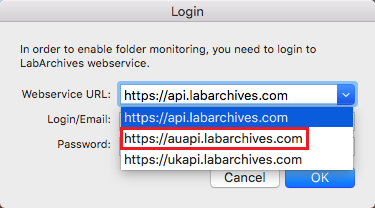 LabArchives Microsoft Office Plugin for Windows
On the Authentication window, select the "LA Server" tab

Click on the LA Server drop down menu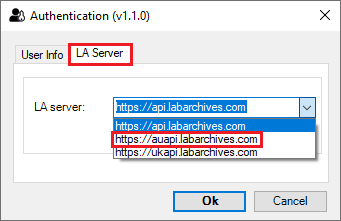 LabArchives Microsoft Office Plugin for Mac
On the Authentication window, select the "LA Server" tab

Click on the LA Server drop down menu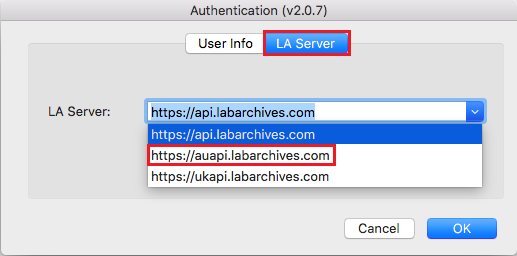 When sending files to your LabArchives account, use the following email address: inbox@au.labarchives.com
The LabArchives App for Android and IOS Devices
After launching the app click the gear icon to access the Settings

Select the Australia and New Zealand Server