If you are the Application Administrator of the Scheduler organization, you can manage your subscription to switch from a Free Trial to a paid subscription or renew your subscription.
To view and manage your subscription, click the gear icon then select 'Billing & Subscription'.

You will be brought to this screen. To add more user or unlimited resources, click 'Add Users'.

LabArchives Scheduler comes with a Free Subscription and a Paid Subscription. Your Free Subscription grants you access to 5 users (including yourself) and 5 resources. To begin a paid subscription, you must have at least 6 users, and you must pay for each of the 6 seats for these users. Once you have a paid subscription, you have access to unlimited resources in your Organization. To increase the amount of users, add the number of users needed (number of users needed after the original 5 free users). For example, if your organization has 10 users, you will need to add 5 users to your subscription limit.
Select whether your organization is Academic/Nonprofit or For-Profit/Commercial. Then click 'Next'.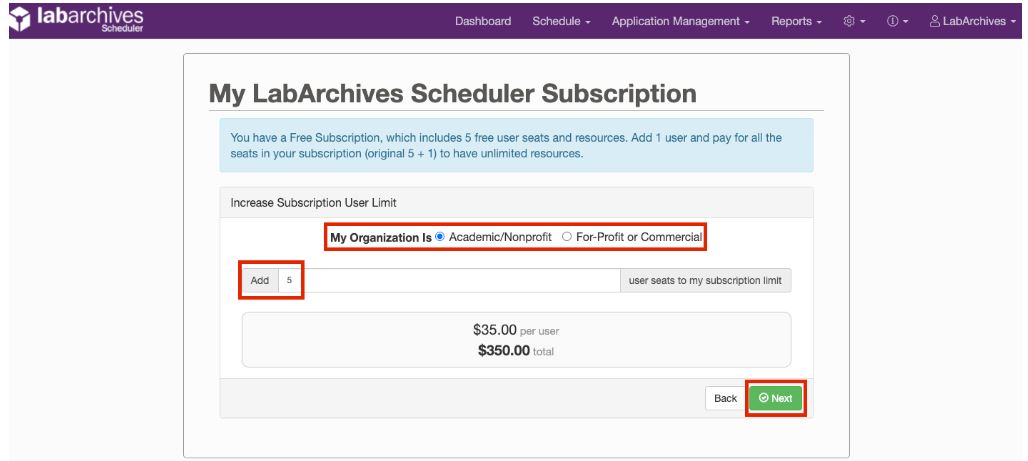 This will bring you to the Checkout screen. Double check the details on this screen. Details should include the amount of years and users you are subscribing for, the cost per user, total cost, and date that your subscription will end.
Select to pay via PayPal or Debit/Credit card. A new window will pop up for your payment choice where you can enter payment information.