Once you have selected a particular time that you would like to reserve a resource, you will be brought to the New Reservations page. This will allow you to create a reservation for a specific time period and you can invite others to use the resource.

Create a reservation for others
Group Admins and Application Admins can create a reservation on behalf of someone else. To select the Owner for the reservation, click the word "Change" on the "New Reservations" page.

Setup Recurring Reservations
By Default, a reservation will not repeat. However, you can setup recurring reservations to be Daily, Weekly, Monthly, or Yearly. If your reservation will repeat, you must select how often it will repeat and when you would like the reservation to end.
As an example, in the screenshot below the reservation will repeat every third Friday until July 31, 2020.

Select Resources
If you have access to multiple resources, you can reserve several resources at once by clicking Change Next to "Resources." If a resource is unavailable during the selected time, it will display in red and you will not be able to select the resource. If you do not have access to the resource, it will not appear on this list.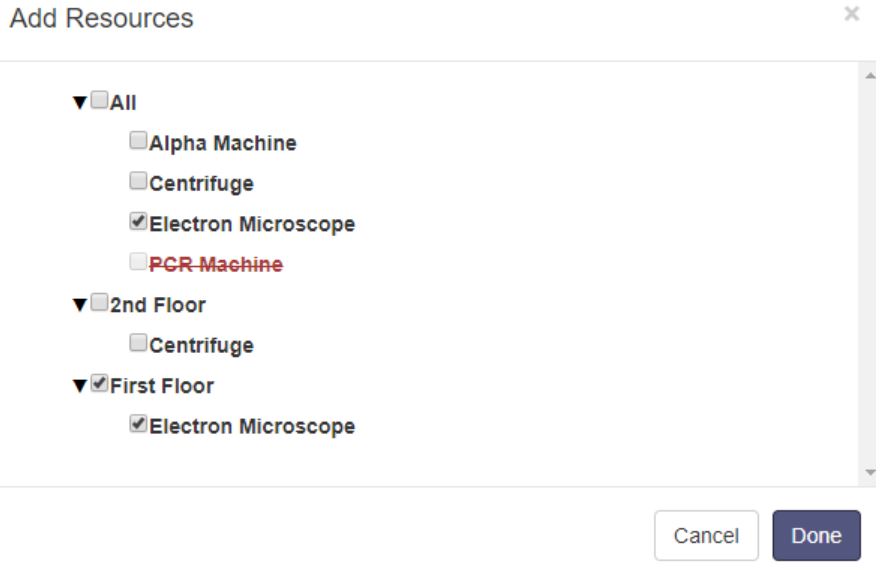 Once a resource is selected, you can hover your mouse over the resource name to learn more about the resource. As an example, if the resource requires approval, you will see a lock icon and if it requires check-in/checkout you will see the check in icon.
Describe the Reservation
You can also provide a title or description for your reservation. This can help other members of your team understand the purpose of the reservation. You can also upload an attachment that may be important for the reservation.
Admins can setup Custom attributes or fields that you can fill out. As an example, you can be required to fill out some additional fields to reserve the equipment.

Reminders
If you would like to receive an email notification before the reservation starts or before the reservation ends, select the options under "Send Reminder" This will notify all participants. Please remember that this will only appear on your reservation if your Application Administrator has selected this option in the Application Configuration. The Application Configuration can be found under the gear icon.

Invite others to the reservation
Your colleagues may be included on a reservation if you add their names in the fields on the right-hand side of the screen. If you add someone as a participant, it will both include them on the reservation and send an invitation to their email address.
However, if you instead add someone as an invitee, LabArchives Scheduler will send an invitation email and give the user an option to Accept or Decline the invitation. Accepting an invitation adds the user to the participants list. Declining an invitation removes the user from the invitees list.
The total number of participants is limited by the resource's participant capacity.