Tags are a great way to add metadata into your lab notebook and improve search results. Tags can be used to build an internal vocabulary with other members of the notebook. Every entry in your Notebook can have one or more tags.
To add a tag to an entry, hover over the entry, click the triple dot menu and select Tags.

This window will appear where you can add a new tag and edit or delete existing tags.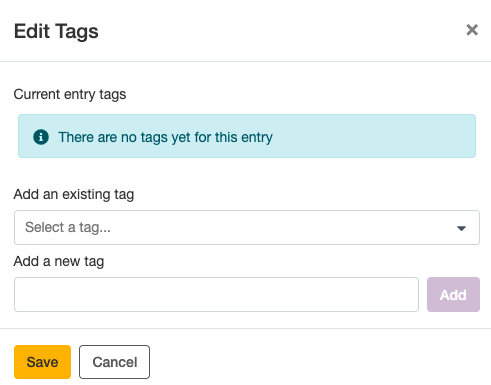 Create or delete a tag
To add a new tag, type the tag in the 'Add a new tag' field and then click 'Add'. Your tag may include spaces and/or more than one word. Once a tag has been added, it will appear under the 'Current entry tags' list. To delete the tag, click the X next to the tag name.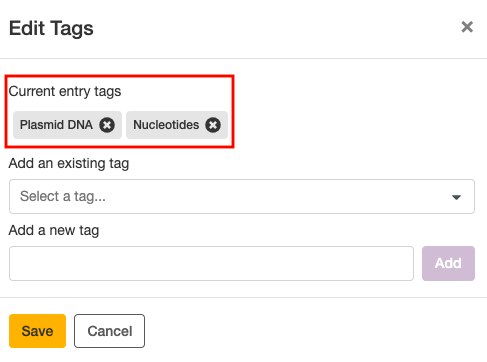 Note: Avoid creating a tag with words like "A" or "do" because they can have unpredictable search results. For more information on stop words Click Here.
Add a Preexisting tag
To view all pre-existing tags, click the 'Select a tag...' dropdown menu under 'Add an existing tag'. This will display tags used in other parts of the notebook and used by other individuals in the notebook. To find a specific tag begin typing in the field and the tags will be narrowed down based on the letters and words typed.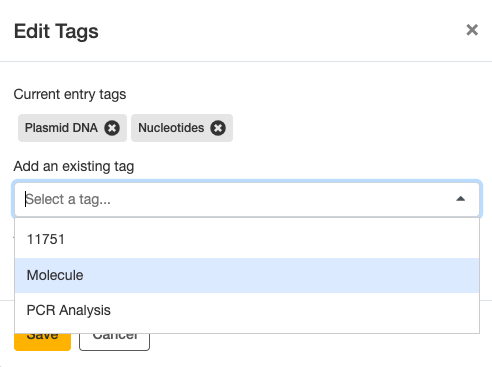 When you are finished adding new tags and/or editing existing tags, click Save.
Once a tag has been added to an entry it will be listed on the right side. You can click on the tag to search for every entry associated by that tag. To learn more about the LabArchives search feature Click Here.