How to Create a Notebook
You can create as many notebooks as you like. In most cases, the PI or Lab Manager will create a notebook and share that notebook with others. To clone, delete, or hide notebooks you may want to use the Notebook Manager. For more information about the Notebook Manager Click Here.
Click 'Notebooks' on the top left of the Notebook Menu. Then click the '+' button.

Enter a Name for your Notebook.
It's recommended that you create a clear and recognizable name for your notebook. You can always rename the notebook.
NOTE: The notebook name must be between 5-60 Characters.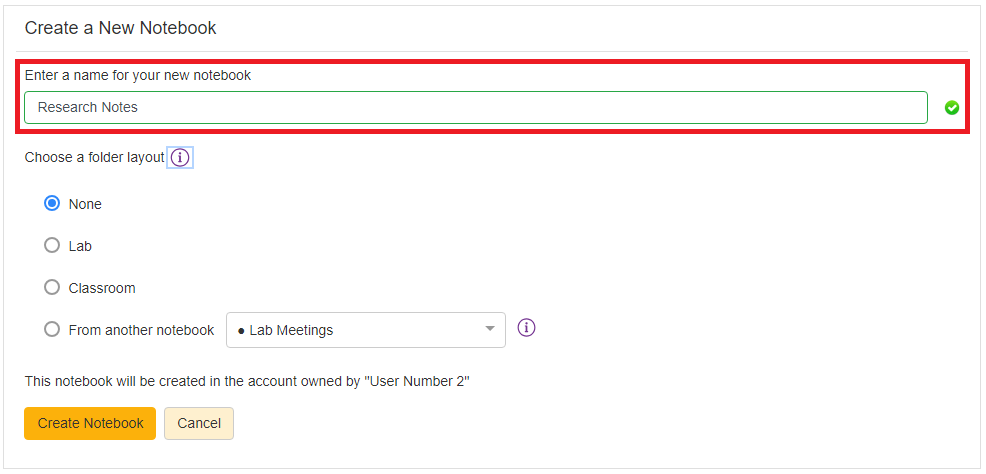 Select a Folder Layout. LabArchives includes several premade folder layouts. If you would like to create your own folder structure click "None." Keep in mind, you can always rename, move or delete the folders. The "From another notebook" option will copy the root level folder structure of another notebook in your account.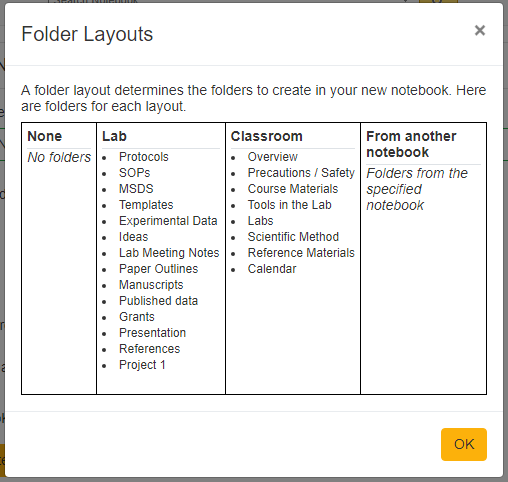 Click "Create Notebook" to create the notebook.
After creating your notebook, you can switch to other notebooks you have access to by selecting "Notebooks" and selecting the desired notebook.
Create a notebook as an Administrator in a Professional Edition account
An individual with the User Role of Administrator can create new notebooks Owned by a specific Individual (typically the PI or Lab Manager). To create a notebook Owned by another user select 'Account Owned by."