The Notebook Manager allows you to organize all the Notebooks to which you have access. In the Notebook Manager, you can choose which Notebooks will and will not appear in the Notebook Navigator. You can also remove yourself from a Notebook, or delete a Notebook you own. Lastly, you can clone any Notebook that you own.
To access Notebook Manager, click the triple-dot icon as shown below: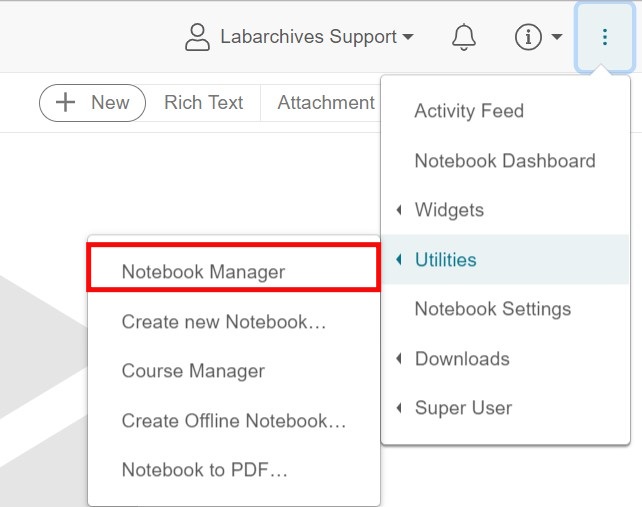 When opened, your Notebook Manager should look similar to this: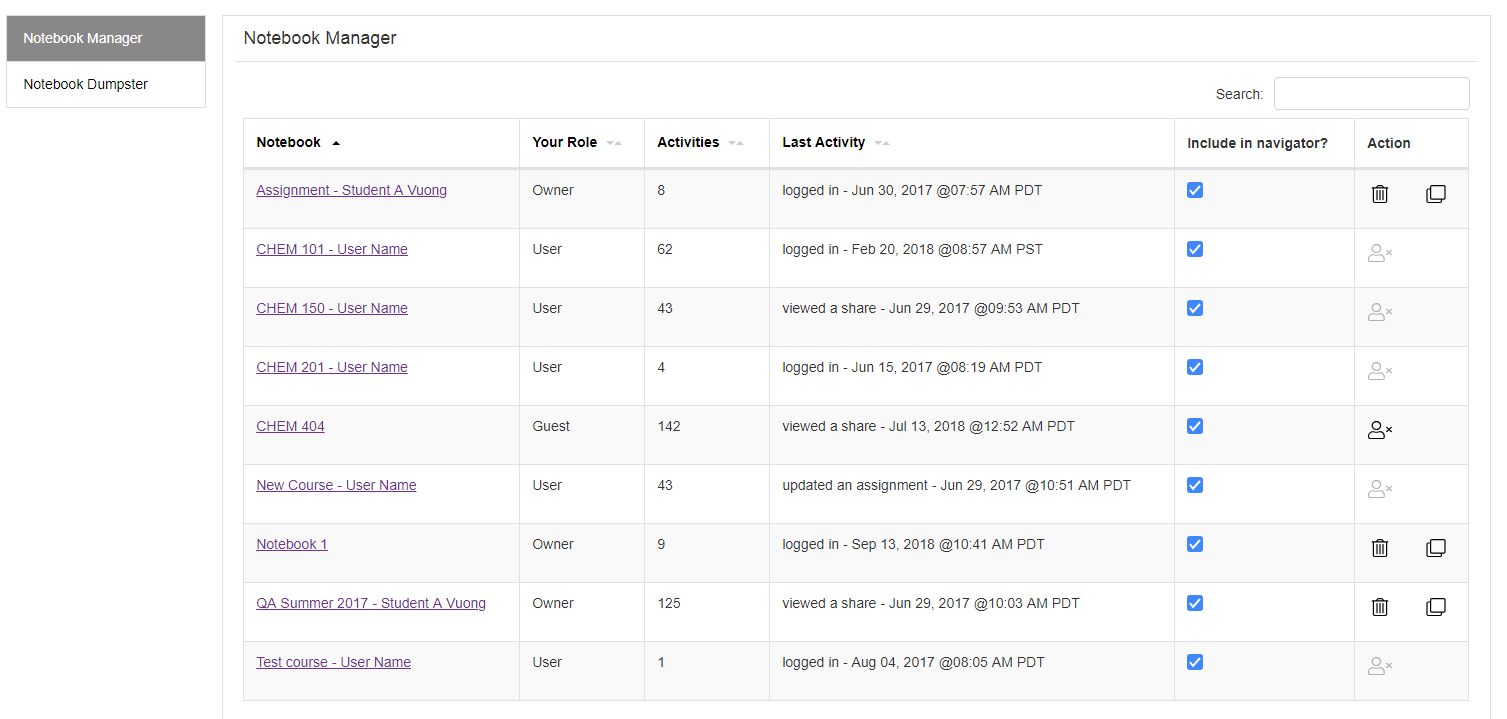 The notebook manager contains interactive and informational items:
Notebook Name – When you click on a notebook name, it will redirect you to that notebook.
Your Role – Your role in that specific notebook.
Activities – The number of activities in the notebook.
Last Activity – The timestamp of the last activity in the notebook.
Include in navigator? – This allows you to select with notebooks are available in the Notebook Navigator. This option is especially useful for Users who share a large number of notebooks and only want certain notebooks to appear in the Notebook Navigator
Delete – This allows you to delete a notebook that you own.

NOTE: Your institution may prevent you from deleting Notebooks. Notebooks connected to a course cannot be deleted until the course is closed.

Remove Me – This option allows you to remove yourself from the Notebook if you do not own it.
Clone – This allows you to clone a notebook that you own. In addition, the sharing rights of the notebook are cloned.

Cloned notebooks will appear exactly the same as the original, including a duplicate revisions history for all items in the notebook.
Your cloned notebook will have its original name with "- copy" added to the end of the name. You can rename this notebook in the Notebook Navigator.
Notebook Dumpster

Notebooks that are deleted will remain in the "Notebook Dumpster" for 30 days. After 30 days, the Notebook will be permanently deleted. Before you delete a Notebook, ensure that you no longer need it.
You may recover a Notebook before the 30-day period ends. To do this navigate to the "Notebook Dumpster" panel, which will appear below the Notebook Manager's main panel. Under the "Undelete" column, click on "undelete" to restore the Notebook.