In LabArchives Scheduler, a Schedule is a way to group resources in an organization. For example, a Schedule could be a department within that organization or a group of people who work on one floor of an organization. It's a way to split an organization up and can be any group that shares resources. Note that only Application Admins and Resource Admins can create and edit schedules.
Create a Schedule:
1. Go to Application Management then select Schedules.

2. As a new Application Admin, you will be brought to a 'Default' Schedule. You can choose to edit this Schedule or create a new one. To create a new schedule, click the 'Add Schedule +' button at the top right.

3. An 'Add Schedule' window should pop up.
Name: enter a name for your Schedule. For example 'Basement', 'Floor 1', 'Immunology Lab', etc.
Starts On: choose a start day for your Schedule.
Number of Days Visible: select the number of days this Schedule is Visible.
For example, if your lab is open everyday of the week, you may want to consider a 7 day schedule. If your lab is closed on weekends, consider a 5 day schedule.
Use Same Layout As: this gives you an option to select the same layout as a previously made Schedule.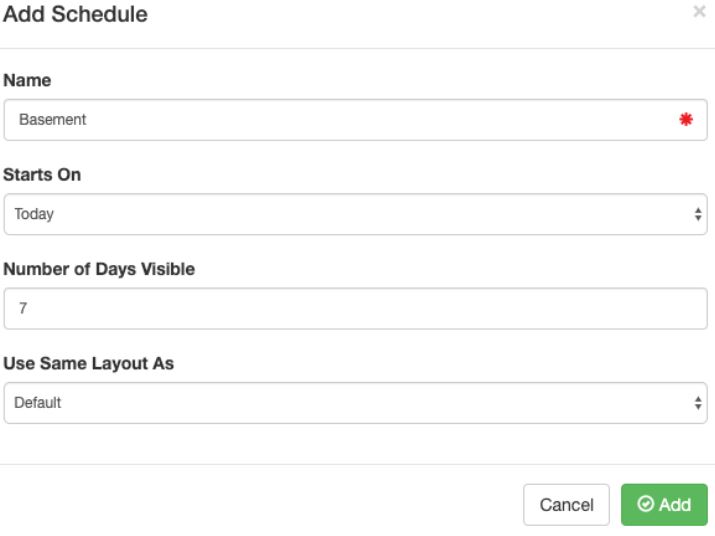 4. Click 'Add' and now this Schedule will be added to your list of Schedules.
5. Once you have made your Schedule, you are able to configure your Schedule's layout. The layout includes 'Reservable Time Slots' and 'Blocked Time Slots'. To set these time slots: Select the pencil icon in the right column of the specific Schedule.

6. This should open the 'Change Layout' Window. Here, you can set the reservable and blocked time slots, time zone, and duration of each slot for the given schedule.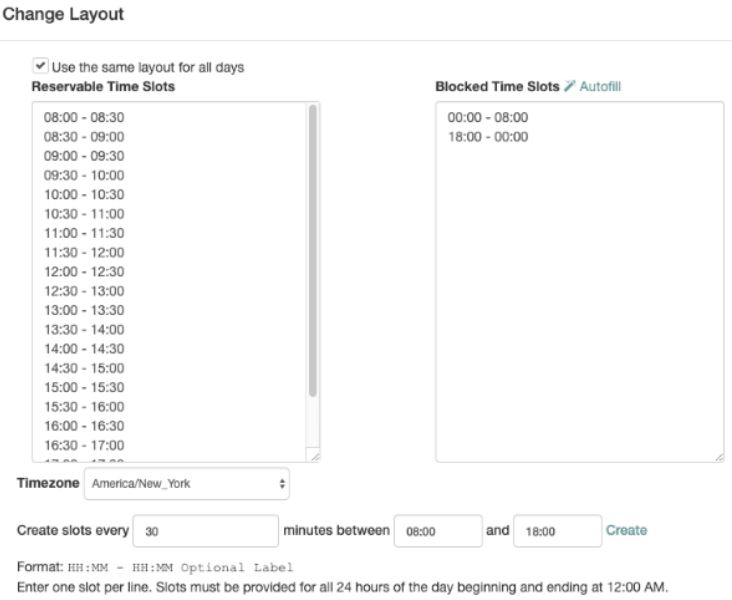 Managing Schedules
Once you have created a Schedule, you are able to modify the settings for that Schedule.
Schedule Administrator: You may choose to add a User Group as a Schedule Administrator. To do this, click the pencil icon next to 'Schedule Administrator'. This will bring up a drop down menu containing names of Groups in your Organization with the Schedule Admin role. Select a group then click the check mark icon.
Resources can/cannot be booked by more than one person at a time: Clicking 'Change' next to this option will toggle it from 'can' to 'cannot' based on your preference. Note that if your schedule does allow a reservation to be booked by more than one person at a time, that schedule can only be viewed through the Resource Calendar/My Calendar screen. It will not be visible on the Booking Page.
Default Style: Can choose between Standard, Wide, Tall, or Week.
Make Default: Makes this specific schedule the default schedule for your group. Cannot delete Default schedule.
Delete: Deletes the schedule.
Show to public: Allows schedule to become public.