What's a Site?
For the secure storage of your institutional data, a unique and dedicated LabArchives Site is created on our cloud-based servers. When your site settings and authentication are set up, those settings are applied to your LabArchives Enterprise Site. When your users create a LabArchives account, their account is assigned to your Site and the account follows all the site settings that you have applied. The user accounts and usage are tracked within your Site's usage statistics. Having a unique Enterprise Site is one of the many benefits provided to
Enterprise customers
. Site, Site License, Enterprise Site, and Enterprise License are synonymous terms, and all refer to your Enterprise Site License.
Site Admin Tool
With an Enterprise License to LabArchives Research Edition, LabArchives Education Edition, or LabArchives Inventory, Enterprise customers will have access to the LabArchives Site Admin Tool. Each Enterprise Site should nominate at least one Site Admin to have access to the Site Admin Tool. For larger sites, we recommend at least two Site Admins.
The Site Admin Tool provides an overview of activity at your institution as well as the ability to manage your site-wide settings.  To access the Site Admin Tool, you must have a LabArchives account and Site Admin privileges. Site Admin privileges are generally assigned at the time of LabArchives implementation but can also be requested from our Support team. The request must be approved and submitted in writing via email by a current Site Admin at the institution.
You will find the Site Admin Tool under the main menu as shown below.
Note: To access the Site Admin Tool, you must be viewing a notebook that is part of your LabArchives site license (or in other words, it is a Notebook that is owned and hosted under your Enterprise Site). If you do not see the option for "Site Admin," visit your notebook list and change notebooks.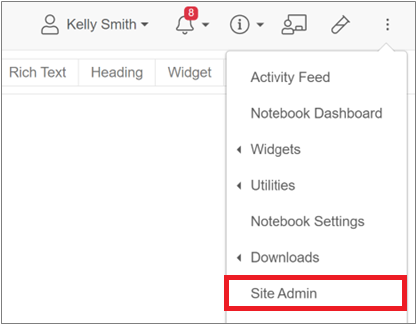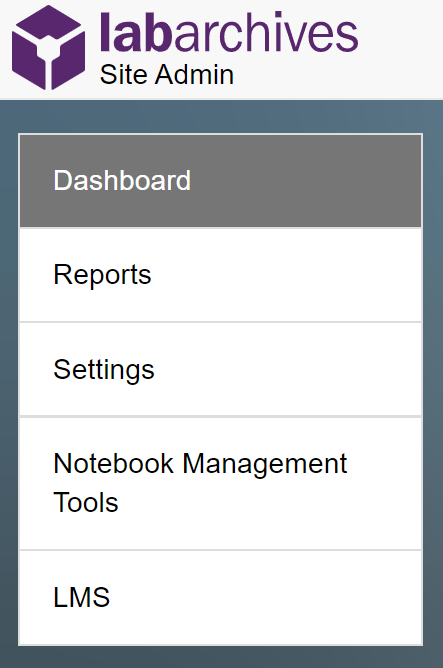 The Site Admin Tool will, at a minimum, provide you with access to the Dashboard, Reports, and Settings tab. Notebook Management Tools will be available if your Site Admin account has been assigned Notebook Ownership Transfer privileges. The LMS tab will be available to LabArchives Education Edition Enterprise Licensees that have requested access to the LMS LTI integration with Canvas, Blackboard, or Moodle.
Dashboard – View a summary of your usage over the past 13 months.
Reports – View and export usage reports with information on users, individual notebooks, downloads, notebook transfers, data sharing, and Inventory groups.
Settings – Adjust site-wide settings such as the ability to restrict notebook deletions, notebook transfers, the sharing and publishing of data, add an auto-log out, and add an institutional logo to brand your notebooks. This is also where Education Edition Enterprise Sites can enable the integration with Turnitin.
Notebook Management Tools – Transfer the ownership of notebooks to other site members. Contact our Support team to request access.
LMS – Enable the LMS LTI integration with LabArchives Education Edition. Done in partnership with our Support team and your local LMS administrator. For additional information, please contact Support.