If you are the owner of an Inventory subscription, you can manage your lab's subscription to upgrade to a paid subscription, bundle your subscription, or renew your subscription.
To view and manage your subscription, click on your name in the top right area of the screen. You will see Manage Subscription on the menu or if you have a Free Trial, click Subscribe Now. If you have been added to an Inventory, even if you are given the role of Lab Manager, you will not see this option. Only the subscription owner will see the Manage Subscription link.

The Subscription page will display the type of subscription that you have. If it is a Free Trial, it will showyour trial period's end date, along with purchasing options, including the ability to bundle your purchase with our ELN platform.
We offer a 90-day free trial where you can add multiple people to try Inventory's features. You will periodically receive emails to notify you when your trial is near its expiration date.You will also see a message at the top of the Inventory screen. Please note that once your 90-day trial expires, yourInventory lab will be no longer available to you.
When you are ready to purchase, you must select the account type based on your affiliation. The two account types are:
Academic/Non-Profit

Commercial/For Profit
You will also find the option to bundle your Inventory subscription with our ELN platform on this page.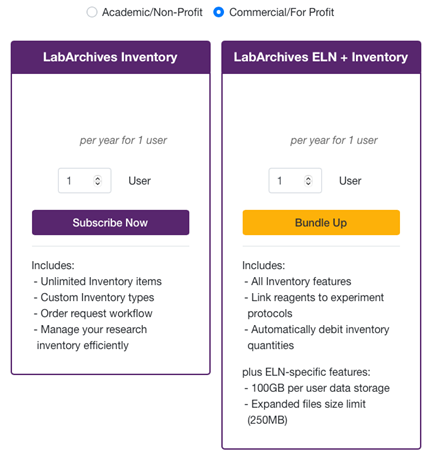 Add the number of seats you would like to purchase in either column, then click Subscribe Now to purchase Inventory, or click Bundle Up to purchase Inventory and ELN.We will calculate the price for your subscription based on the number of Active users you have in your account, including yourself.Bundling will also increase the cost of your subscription.
Following this, you will be taken to a page to confirm your purchase. Select PayPal or Credit or Debit Card and input your information to complete your purchase.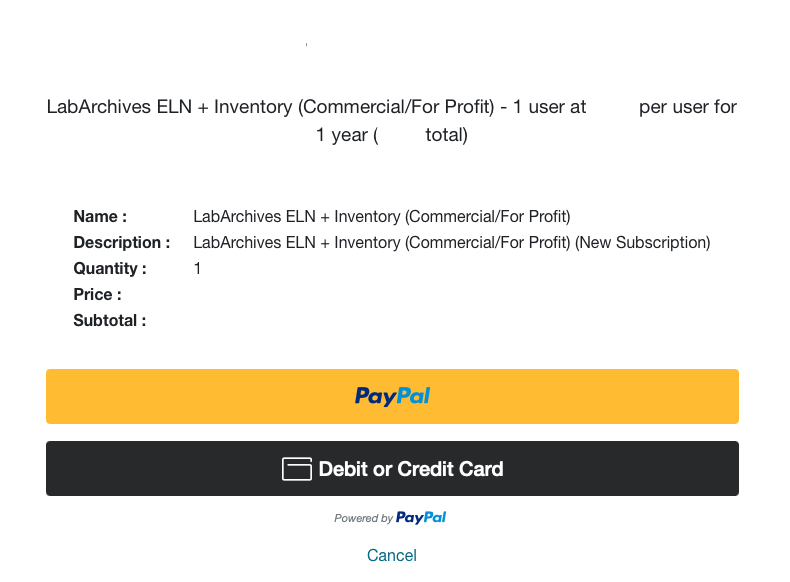 Additional members can be added at any time during your subscription and their rate will be pro-rated based on the expiration date of the existing subscription. For example, if a lab begins a subscription for five users on January 1st, those users will be charged the 1-year subscription price per person. If that lab then adds one person in June, the new person will be charged for 6 months based on the annual subscription price per person.
This ensures that the subscription renewal time syncs for all users, regardless of when an additional person was added.
To add users, simply click Add Users instead of Renew Subscription and follow the prompts to checkout.
If you need to reduce the number of people in your subscription, this can only be done at the subscription renewal date, and you must first remove users from your account before renewing with fewer users.
Click here for more information on pricing for our Inventory platform.
If you are purchasing for someone at your institution or if you require an invoice, please send an email to support@labarchives.com with the following information:
Company or Institution name

Username

User email

Phone number

Purchaser address or PO box

Is this a new purchase or a renewal?

Number of seats being purchased

The name of your Regional Account Manager (if known)

Payment amount