LabArchives Inventory makes it easier for lab members to indicate their usage of items, which in turn allows lab managers to keep track of items and be alerted when stock runs below a specified threshold.
From the Inventory Menu, locate the item you wish to use and click on the item's name to open the Details menu. Select the "Use Now" button from the upper right-hand side menu.

From the "Use Now" window, enter the amount used. This amount will be deducted from the amount stored in the system. The units selected when creating the inventory item will be the same units displayed when using the item (e.g. if amount is in mg then amount used will default to mg).
If an item is located in a Freezer Box, you can indicate the specific cell(s) you wish to use. First select Use Now, then the quantity and specific freezer box cell.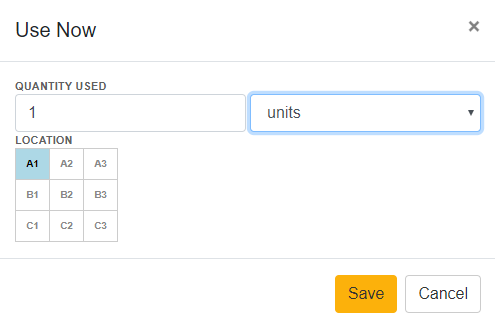 Note: Negative amounts are not allowed. Even if you use a larger quantity than is available in the inventory, the amount available will default to 0. No restrictions are placed on who can use an item and therefore you cannot hide items from other members of the lab at this time.
Use Now Column
Inventory gives the user the option to use items from the inventory search page. To use an item, click on "Use Now" in use now column for the item. A pop-up will appear where you can choose the amount you are using.
If the use now column does not automatically appear on your inventory search page, it will need to be added in the settings under display.
Out of Stock Inventory Items:
When an item has been used up and the quantity is 0, it is considered out of stock. Out of stock items are not deleted. They are saved but are no longer automatically displayed in the Inventory list or search results list. When you request a re-order on an out-of-stock item and the new order is received, a new item will be created rather than over-writing the prior item information. This allows retaining a complete history of all inventory items over time.