You can manually export your inventory information from LabArchives Inventory at any time.
Note: Anyone with access to the inventory can export items.
Export Inventory
Click on Inventory from the main menu.

Use Filters or Search to look for specific items.

See Search Your Inventory

for more information.

To export your Inventory, click

"Export Items"

on the Inventory page.




image of export items button.

4. On the Export Inventory Items screen, select "Export Current Search Results" or "Export All Inventory Items".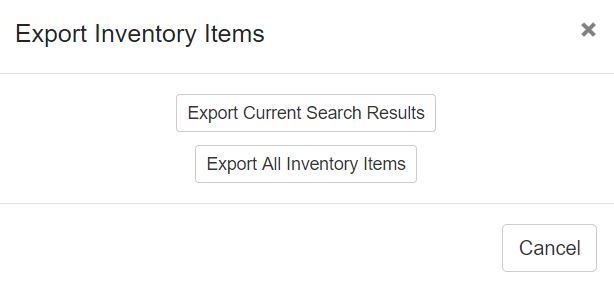 5. The export will be downloaded to your computer in the designated downloads folder as an Excel (.xlsx) spreadsheet. The Excel sheet will contain a tab for each unique Item type and columns specific to item details. The Location is also included and is displayed in a "breadcrumb" fashion as shown:

Note: The export spreadsheet cannot be used to import items into Inventory. Be sure to use the Import Template only. See Import Inventory Items from Excel to learn more.