Check Order Status
From the Orders page, you can search for a specific order or sort orders by Status using the filters on the left-hand menu.
There are five status types:
Requested– Order Request sent to Lab Manager(s)

Approved - Lab Manager approved request

Cancelled - Lab Manager cancelled order

Ordered - Lab Manager orders requested item using a 3rd party system

Received - Item arrives on site and is marked as received
After an Order is requested and placed into the system, you can view the current status of the order in the Status column on the Order page.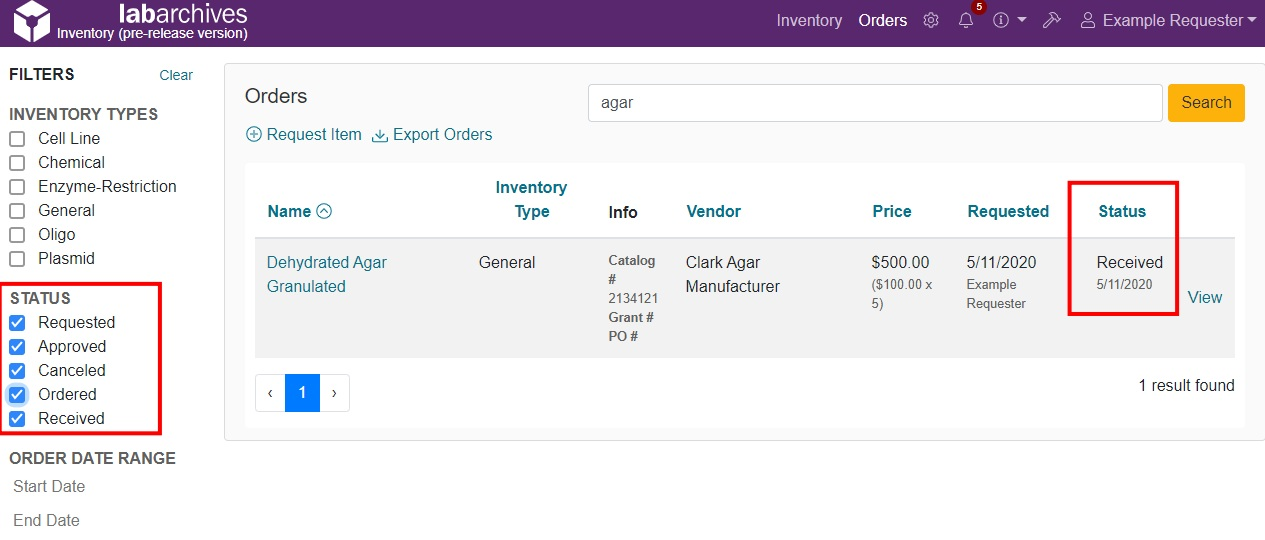 In addition, you can view the details and history of a specific order request on the Order Request itself. To view the details on a specific item, click on "View" for an item. All status changes are recorded and appear in the History section at the bottom of the Order Request.

When the item arrives, either a Lab Manager or the Lab Member who requested the item, can mark the item as received. To record that an item has been received, locate the order on the Order page and find the inventory item of interest.
Click on the "Mark Received" button.
Note:A new inventory item will be created at this time.

For additional help to locate an order, please view our Knowledgebase article on Search and Request an Order.