LabArchives includes Microsoft Office Online to create, view, and edit Word, Excel and PowerPoint documents. To learn more about adding an office document as an attachment to your notebook, Click Here.
To create a new Office Document
1. Select "Office Document" on the "Add Entry" toolbar.

2. Select the document type you would like to create, enter a name for the document and click "Create your Office Document"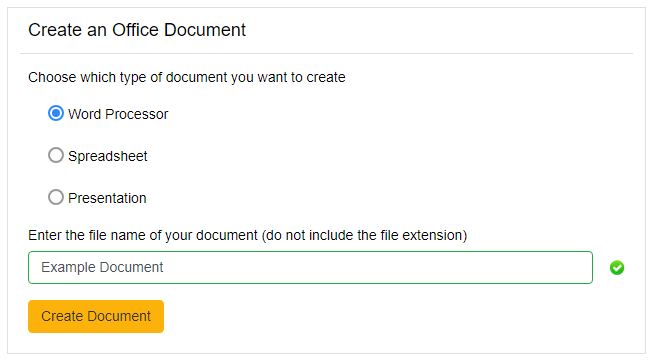 3. Work in your document. Microsoft Office Online will automatically save your changes. Close the tab to see your changes inLabArchives.

Important Information:
If you are using LabArchives at a Non-academic site, you may be prompted to login to an Office 365 account. Once you login, you will be able to view or edit documents using MicrosoftOffice Online.

The older filename extensions (.doc, .xls, .ppt) can be viewed in LabArchives but they cannot be edited using Microsoft Office Online.

There are

some size limitations to View and edit files.

.

Excel Online can only edit and view files less than 5 MB.

PowerPoint Online can only edit files less than 300 MB.
Edit Documents using the Microsoft Office Plugin
Office Online is highly compatible, but not 100% compatible with the MS Office suite. If you are working with MS Documents with a lot of special formatting (complex plots or complex cell-based calculations, conditional formatting, etc.) you may prefer to use the desktop version of excel. You can either upload the files to LabArchives when you are finished or use the Microsoft Office Plugin.
To learn more about the Microsoft Office Plugin, see the following articles:
For Windows - Microsoft Office Plugin for Windows
For Mac - Microsoft Office Plugin for Mac
Android and iOS Compatibility with Microsoft Office Online
Microsoft Office Online does not support online editing for Android and IOS devices. You may be able to download your files and open them using a compatible office document app (Google Docs, The Microsoft Office App etc), but your files will not automatically save back to LabArchives. You would need to upload the newer version of these files when you are finished. A Windows or Mac based tablet or PC will allow you to use Microsoft Office Online and the Microsoft Office Plugin.