LabArchives allows you to attach documents of any file type to a page of your notebook. You can add attachments to your lab notebook by manually uploading to the page or through an application like Folder Monitor, the Microsoft Office Plugin, Graph Pad Prism, and more.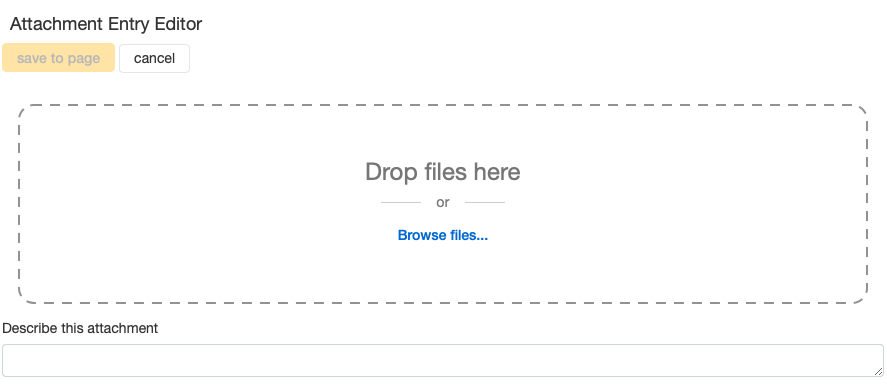 How to Upload a file to a LabArchives page
NOTE: The maximum file size of an attachment is 250MB. For Free Edition users, the maximum file size is 25MB. Large File Upload (see below) is only available for Enterprise License sites for an additional fee.
There are two ways to upload a file: You can upload a file by dragging the file into the browser window and dropping the file into the designated box that appears at the top, or click the "Browse files" link, which will allow you to select a file from your computer.
1. On a page of your lab notebook, select "+New" then "Attachment" or click "Attachment" on the Add Entry toolbar if it is one of your most used entry types.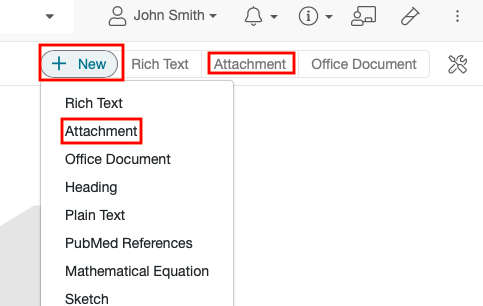 2. Click "Browse files" and select the files that you would like to upload. You can also drag and drop files into the window. Up to 50 files can be uploaded at one time.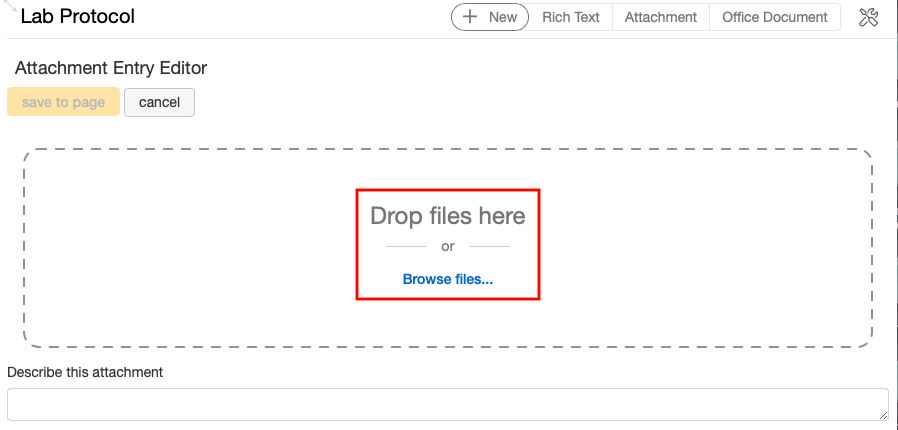 3. Click "Save to Page" to upload a file. A thumbnail or icon will indicate the file type or its content.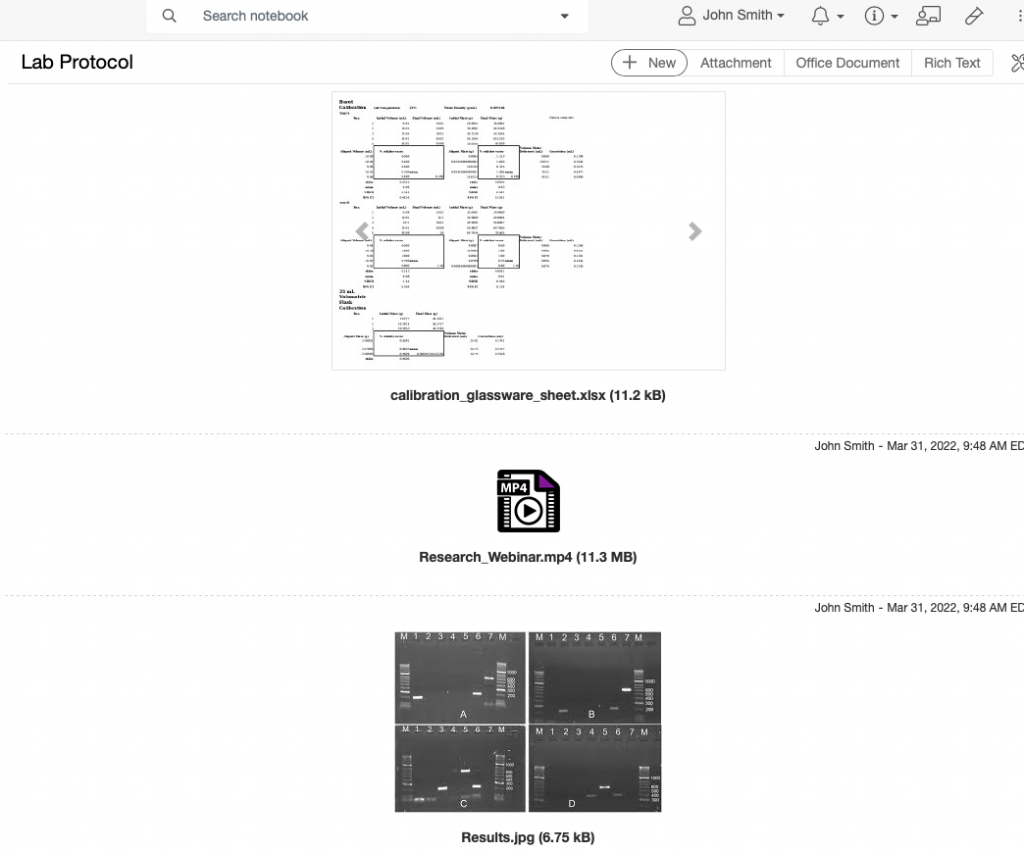 Download, View and Edit files stored in your lab notebook
When you hover your mouse over an attachment you will see the following icons.

Download
To download any file stored in LabArchives, hover your mouse over an entry and click download.

View
Some attachments can be viewed directly inside of your lab notebook (.txt, .pdf, Microsoft Office documents and Images).

Edit
Images and office documents can be edited within LabArchives by clicking the pencil icon.
Most image types (.gif, .png, jpg) can be annotated using the Image Annotator. For more information on the Image Annotator, Click Here.
Note: Images that are supported by the browser are also supported by LabArchives' annotator. Although TIFF was one of the first image formats, most browsers do not support .tif files natively, which is why our annotator is not enabled for .tif images. Otherwise, almost all other image file types should work just fine.
Office documents saved as .docx, .xlsx, .pptx can be edited using the office document editor. For more information on the Office Document Editor, Click Here.
How to update a file
If you make changes to a file and want to update that file in LabArchives, click the pencil icon on the entry toolbar to edit the entry, upload the new file, and click "Save to Page." This will maintain the revision history for this file. It can also be used to rename a file.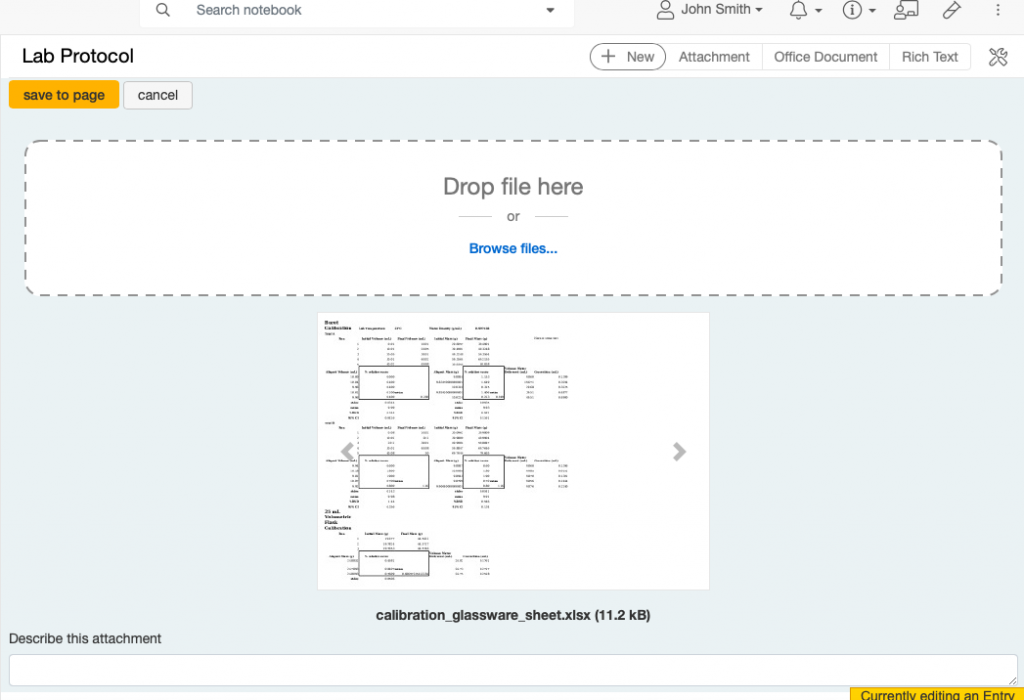 Large File Upload
Enterprise Licenses (universities or other large organizations) may purchase larger storage at an additional fee. The institution can configure this to use LabArchives' S3 storage, Box, OneDrive, or the institution's S3 Storage.
The maximum total file size and total storage is set by the institution. Typically, the maximum individual file size is 4 GB or 16 GB.
If a large file (above 250 MB) is uploaded to a notebook page, it is automatically stored using the institutions selected tool. You will see a generic icon and the end of the file name indicates where the file is stored (Box, LabArchives S3, etc.).
| | | |
| --- | --- | --- |
| | Files Under 250 MB | Files Over 250 MB |
| Can I download the file, upload a new version of the file, add links, tags, comments, or descriptions? | Yes | Yes |
| Is the revisions history maintained for the file? | Yes | Yes |
| Are the files scanned during upload, monitored, and checked regularly? | Yes | Yes |
| Is the file name, description, or tags used for indexing? | Yes | Yes |
| If it is a supported file type, can the contents of the file be indexed? | Yes | No |
| If it is a supported file type, can a thumbnail of the file be displayed? | Yes | No |
| If it is a supported file type, can the file be edited or annotated directly in LabArchives? | Yes | No |
| Can the file be uploaded or accessed using the LabArchives API, Folder Monitor, Microsoft Office Plugin, or external integrations? | Yes | No |
Please note for large files stored on customers' storage system (e.g., Box or institution's S3):
LabArchives will have no liability of any kind as a result of the deletion, modification, destruction, damage, loss of or failure to store or encrypt any data which is stored on the Customers' and/or Authorized Users' local or third-party storage systems.
If you are interested in learning more about large file storage available at your institution, contact your local LabArchives administrator or LabArchives Support.